Rep. Dan Crenshaw, 2024's Captain America?
Posted On November 8, 2020
---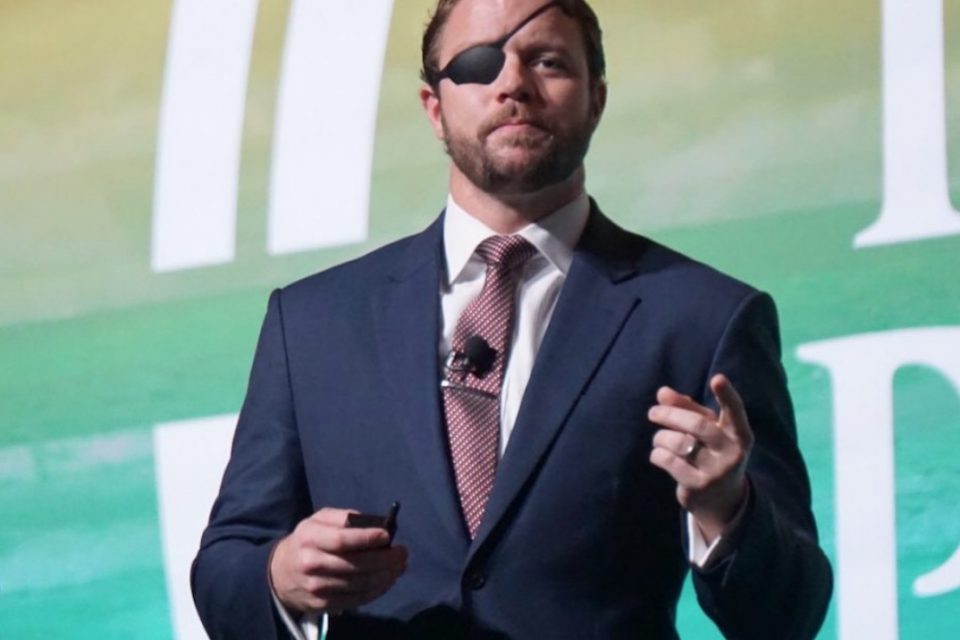 Americans have been glued to the TV since polls closed on Election Night last Tuesday, and tensions are rising as shifting vote counts continue to tip the balance of states from going red or blue, further fueling the arguments of voter fraud from Trump supporters that have manifested in the form of protests across the country.
Just as President Trump (R) has announced a series of lawsuits to challenge the final count in states like Wisconsin and Georgia, both Republicans and Democrats are bracing themselves for the idea of what a Biden administration will mean for the next four years.
Regardless of the outcome of the 2020 presidential election, all eyes look onto 2024.
With President Trump out of the White House and President Biden (D) in the White House, Republicans would find themselves in an interesting rebranding phase in a post-Trump presidency.
Taking into account that President Biden may or may not seek reelection, political pundits agree that Trump has changed the image and platform of the Republican party for years to come while Democrats continue to discuss what the identity of the party will be moving forward.
How can Republicans across the United States expect to win the presidency in 2024 and beyond if the 2020 election does conclude that Americans rejecting a second term from President Donald Trump?
The answer could be Texas Rep. Dan Crenshaw (R), who just won his second term in Texas' 2nd district by a wide margin of 56.1% to his Democratic opponent Sima Ladjevardian's 42.3%.
Entering the Lone Star state's congressional delegation in the 2018 midterm election, Crenshaw quickly rose up the ranks of the Republican party as a force to be reckoned with. Through his use of social media and his innovative demeanor, the sophomore congressman has expressed himself as a staunch conservative who can work across the aisle and draw bipartisan praise as well.
As a former United States Navy SEAL and purple heart recipient, Crenshaw joined the Committee on the Budget, the Committee on Homeland Security and he became a ranking member of the Subcommittee on Oversight, Management and Accountability in his freshman term. As a member of said committees, his office argues that "he is focused on border security, disaster relief funding, port security, cutting frivolous spending and implementing fiscally responsible policies."
In 2019 alone,  Crenshaw cosponsored 46% of the 195 bills that were introduced by a legislator that was not Republican. Of his 8 bills and resolutions, 4 had a Democratic cosponsor. Moreover, as a member of Congress, the bills sponsored have focused on issues regarding Armed Forces and National Security, Energy, International Affairs and Emergency Management during a time when the United States grapples with the deadly COVID-19 pandemic.
 In terms of outreach, the sophomore lawmaker is an avid Twitter user, often sharing his thoughts with Americans on the popular social media platform and using his wit to engage constituents in the political discussion. It's a youthful approach more effectively used by Democrats in recent elections, but it's one that Crenshaw utilized with political advertisements that no previous lawmaker had experimented with when campaigning. 
As part of his congressional reelection bid, Crenshaw joined a number of Texas congressional hopefuls and was part of an Avengers-style advertisement titled "Texas Reloaded" that showcased the candidates' military background while also attempting to stir excitement in their candidacies. This effort proved to be an effective pursuit, that was then mimicked in Florida with military congressional hopefuls in the sunshine state.
In a time when Americans continue to warn of socialist sympathizers growing within the Democratic party, Rep. Crenshaw could position himself as the "Captain America" of ideals, the first Avenger of Congress and the last line of defense to assemble Republicans, Independents, and moderate Democrats that have felt abandoned by their party and who voted for President Trump in the 2016 presidential election as a result of the alienation. 
Moreover, a Crenshaw candidacy could unify Republican "Never Trumpers" with President Trump's already established Republican base, which would bring about a healthy conversation that was mostly stagnant during Trump's first term and which largely could've contributed to Republicans voting for Vice President Biden in the 2020 election.
Ultimately, the base Crenshaw mobilizes could be a political powerhouse, and based on the accomplishments of a Biden administration with a Republican Senate and a Democratic House, a Crenshaw candidacy could spell an Endgame for Biden's chances of possible reelection in 2024, if he decides to run.
---
Trending Now
You may also like