As the next wave (caravan) of immigrants make their way to Mexico City from the Guatemala-Mexico border en route to the U.S. southern border, members of the Texas congressional delegation are planning another trip to the border as soon as the caravan begins to arrive.
According to Texas Rep. Brian Babin (R), who alongside Rep. Jodie Arrington (R) organized a border crisis tour in McAllen and Laredo last April, the group is planning on heading to the border crossing where the caravan is expected to try to come through.
During a SEAL PAC political event in Washington last week, Rep. Babin along with Rep. Ronny Jackson (R), told Texas Politics that they were actively planning another border visit and that it would coincide with the arrival of the aforementioned caravan.
But with Texas Gov. Greg Abbott having announced that the border would be all but be completely shut down and illegal immigrants were not welcomed, the caravan and other illegal aliens could look to other less-patrolled areas along the U.S. southern border, like New Mexico.
All of the news along the border as it pertains to illegal immigrant crossing, drug interdictions, and human trafficking, and all other criminal activities, appears to come out of the border regions in Texas, Arizona, and California, but not New Mexico.
According to Rep. Yvette Herrell (R), whose congressional district takes up the lower half of the state, it is business as usual for the drug cartels along the Mexico-New Mexico border. Rep. Herrell says that but because the focus is mainly in Texas, the massive immigration problem in her state is practically invisible.
"The border is wide open, and the American people are paying the price for Biden's far-left policies and double standard. Illegal immigration is at an all-time high and endangers Americans and migrants," said Rep. Herrell in a statement to Texas Politics.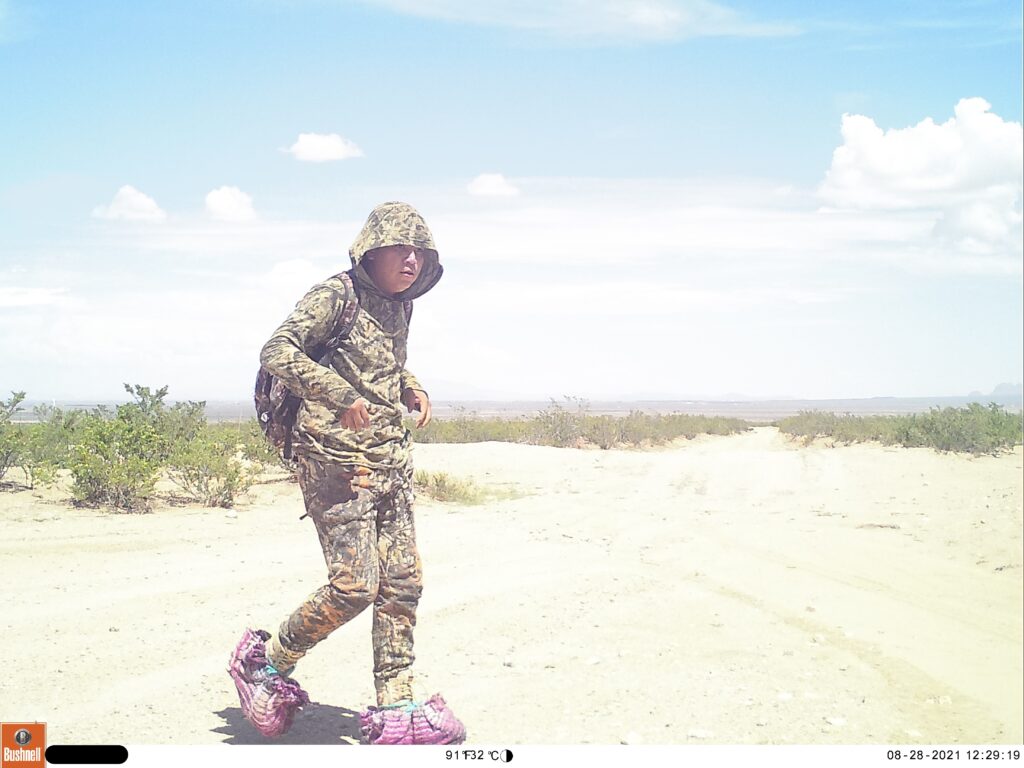 Rep. Herrell added that the border crisis extends along the entire region, from California to Texas, and that just as it is the case in other states, single males are actively disguising themselves in camouflage and using carpet-wrapped footwear to hide their tracks as they make their way across the border. (Pictured)
Immigration intelligence reports state that men who partake in such elaborate immigration "tradecraft" to escape detection are most likely involved in some sort of criminal activity.
"With illegal immigration at an all-time high, we are now expecting yet another caravan. Sadly, this could all be avoided if we would allow Border Patrol to do their jobs. President Biden should be visiting the border in New Mexico, Arizona, California, and Texas to see the real threats to Americans instead he is jetting off on a junket to Scotland," added Rep. Herrell.
Rep. Herrell told Texas Politics that she would be joining the Texas congressional delegation on their next trip to the southern border.
During the April visit to the southern border, Texas Congressman Pete Session, who also confirmed that another border trip was "in the works."  spoke on what he described as the "invasion" at the border.
Reps. Sessions,  Arrington, and Babin were joined by Reps. Michael Burgess, Louis Gohmert, Jackson,  Beth Van Duyne, Randy Weber, Pat Fallon, Troy Nehls, Kevin Brady, and John Carter.
The border crisis has helped Republicans make huge political gains against Democrats as several congressional districts along the border are now up for grabs and Republicans are expected to win those contests.
Republicans from all over the country have been converging on the border to bolster their respective congressional campaigns as Democrats.